Engineering, Manufacturing And Distribution Experience Since 2001
Foreseeson Technology - We strive to be the best solution provider from the perspective of engineering support, mass production and distribution for customers seeking cost minimization for their requirements since 2001. To achieve our mission, we believe that integrity, product knowledge, quality and on-time deployment are the basic principles for conducting business.
Foreseeson Technology Inc. is a British Columbia, Canada-based Manufacturing and Distribution Services (MDS) organization. Foreseeson is striving to provide a total solution: from engineering, prototyping, small run manufacturing and distribution services to local, national, and North America based customers.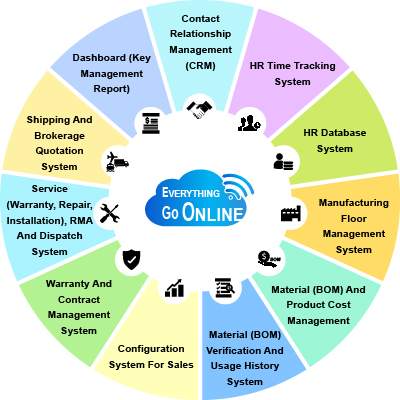 Foreseeson Software ; Everything Go Online
For the last decade, Foreseeson has improved processes from engineering, manufacturing, sales, and even after-sales services. Foreseeson is now making a huge step for a real-time updated management system using the "Everything Go Online" concept.
The software developed by Foreseeson, has been used in Manufacturing, Distribution, Sales, Installation Services, Warranty Services, and Online Stores.
Foreseeson's software is the visual format of your existing database. It can be used without changing or additionally investing in your existing database / MRP / ERP systems.
Foreseeson's software is already a proven software system that is used in real businesses.
Foreseeson software is simple. There is no need to change your current system, go online anywhere and at anytime, no viruses and it provides high security protection.
Virtually everything can go online with Foreseeson software. Customers, managers, employees and other people can see realtime data 24x7x365 virtually anywhere, and practically from any device that has a functioning web/internet connection.
To constantly evaluate, improve our business process and to ensure our long-term goals of sustained growth and technological innovation within our technological niches.
To become one of the top online software companies in Canada.
STRENGTH: We will continue to grow in a variety of ways, leveraging the strength of our employees and diversity of our operations.
EMPLOYEE: Our greatest value - we foster an environment of collaboration.
PROFESSIONALISM: We will recruit and train the best people available, providing them with the tools and systems that will allow them to be the best. Our customers continue to recognize us as a professional, friendly and courteous business partner.
ACCOUNTABILITY: We hold ourselves accountable for our own success, and focus on our accountability to customers and other performance standards as a priority throughout our commitment, credibility, reliability and integrity.
Foreseeson's highest value-proposition to the customer is "Listen And Easy To Deal". Foreseeson is building up its infrastructure and process with engineering, manufacturing, sales marketing, and warranty services. This online infrastructure and data processing system is a key success factor for Foreseeson, now and in the future.